Victoria Delgadillo's painting of Laura Berenice (above), a disappeared young women of Ciudad Juarez (found in Lote Bravo irrigation ditch with 7 other murdered women, 2002) is in the inauguration exhibit of a new 1363 square foot gallery, Galería Gilberto & Dolores Cárdenas, National Museum of Mexican Art, 1852 West 19th Street, Chicago, IL 60608.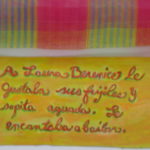 Nuestras Historias (Our Histories) highlights the Museum's Permanent Collection to showcase the dynamic and diverse stories of Mexican identity in North America. The exhibition presents cultural identity as something that continually evolves across time, regions, and communities, rather than as a static, unchanging entity, and features ancient Mesoamerican and colonial artifacts, modern Mexican art, folk art, and contemporary works from both sides of the U.S.–Mexican border. The vast diversity of Mexican identities demonstrated in these works defies the notion of one linear history and a singular identity. Curated by Cesareo Moreno. Read more here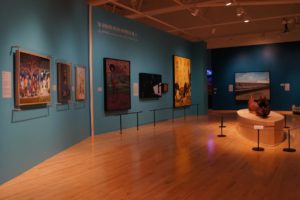 Home to one of the country's largest Mexican art collections, the National Museum of Mexican Art features more than 7,000 seminal pieces from ancient Mexico to the present. Guests will be immersed in the rich culture and immaculate art pieces that span 3,000 years of creativity. Many of the museum's pieces and exhibitions have traveled to other institutions around the world, showcasing the quality of the collections. The museum is always free and open to the public. Check their website for times and days.