Border events in Calexico and Mexicali
Friday, January 17 – Sunday, January 19, 2020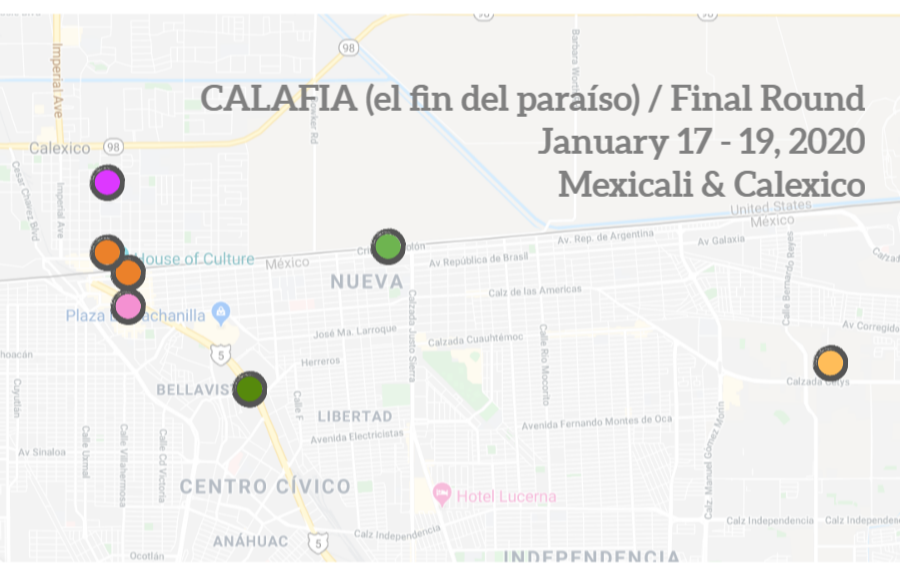 Friday, January 17, 2020
1-3 pm
Calexico, CA
Steppling Art Gallery, SDSU, Imperial Valley Campus
720 Heber Ave, Calexico, CA 92231
CALAFIA: Manifesting the Terrestrial Paradise. Visual Arts exhibition
Artists: Amber Bowser, Chris Christion, Maya Mackrandilal, Jane Chang Mi, Yutsil Cruz, Mayte Miranda, Chinwe Okona, noé olivas, Monica Rodriguez, Sandy Rodriguez, Julio M. Romero, Paulina Sanchez, Diane Williams
7:30-10 pm
Mexicali, Baja California MX
Planta Libre Galería Experimental
Av Zuazua 457, Zona centro, 21100 Mexicali, B.C., Mexico
Films screenings:
David de Rozas Remember This House (Recuerda Esta Casa), 2019
Amanda Trager and Erik Moskowitz Island (Isla), 2019
(Q&A after the screening)
Saturday, January 18, 2020
12 noon – 3 pm
Mexicali
Institute for Cultural Research Museum (IIC Museo) in Mexicali.
Avenida Reforma y Calle "L" S/N, Nueva, 21100 Mexicali, B.C.
Artists: Victoria Delgadillo and Raul P. Baltazar, Invasorix, #snatchpower, Jessica Sevilla
*This exhibition will on display until February 2, 2020*
12 noon – 2 pm
TALLER DE INVASORIX Me duele la cara de ser tan güera/ WORKSHOP BY INVASORIX My face hurts from being so white
LOOK IN YOUR CLOSET FOR COLORED T-SHIRTS AND BRING THEM TO THE WORKSHOP TO INTERVENE THEM AS A METAPHORICAL PROCESS OF INTERNAL AND EXTERNAL WHITENESS.
1-5 p.m.
Mexicali
i21 Art Space. Local I21, pasillo verde, Tianguis del Caballito
Boulevard Adolfo López Mateos, Centro Cívico, 21000 Mexicali, B.C., Mexico
Yutsil Cruz (solo exhibition) Xolotl, 2018
*This exhibition will be on display until February 8, 2020*
I21 es un espacio de arte orientado al desarrollo de proyectos de sitio específico en Mexicali para fomentar la conexión de diversos públicos a la práctica artística multidisciplinaria. // I21 is an independent art space focused on the development of site specific projects in Mexicali and that aims to connect diverse audiences to multidisciplinary artistic practices.
9 pm+
*After party at Bar Tio Nacho*
Av Marmoleros 26, Industrial, 21030 Mexicali, B.C., Mexico
Invasorix, S_a_c_r_a and others
Sunday, January 19
11:30 am
Billboard project by Jessica Sevilla
Billboard located in front of Toyota, Calzada Cetys
Calzada Cetys 2630, Marsella, 21254 Mexicali, B.C., Mexico
3 pm
Border fence performance
Vocal performance by Carmina Escobar
Calexico side: parking lot located at
426 E. First St, Calexico, CA
Mexicali side: Heroes de Chapultepec Park
Av. Fco. I. Madero, Centro, Primera, 21100 Mexicali, B.C., Mexico
Images: map of events, Carmina Escobar and Yutsil Cruz. Courtesy of the MexiCali Biennial and the artists.